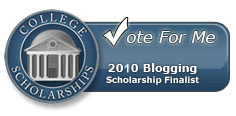 Finalist for the 2010 Blogging Scholarship
Hey everyone! Before we get back to MAC Tartan Tale coverage (edited 11/4:  I'm mildly amused that this STILL holds true, even a week later), I wanted to take a moment to ask for your support. A couple of weeks ago, I submitted an essay (no more than 300 words–do you KNOW how hard it was to stay within that word count?!) towards the 2010 Blogging Scholarship, which recognizes students who blog. The first place winner will receive a $10,000 scholarship to help pay for school. I would love it if you would consider voting for me as I am one of ten finalists (I am Christine Mielke!). It would be incredible to show the Power of Temptalia! 🙂  Voting ends November 5th at noon PST!
Excerpt from my essay…
Blogging is vital to me, because it has given tangible meaning to my heart and soul. Through blogging, I have learned my passion lies in beauty by providing firsthand experiences to help others. Blogging is my method of self-expression, but it has brought me together with likeminded individuals and allowed us to build a community based on that passion. I have been given opportunities to interact with my readers, both on and offline, and there is nothing more rewarding than being able to help someone—even if it is recommending a lipstick. That lipstick recommendation just might inspire confidence in a self-conscious teenager!
You can vote for me here! 🙂  Voting closes tomorrow (Friday) at noon PST.
Thank you!
Though I said it earlier in my last Tartan Tale review video, I really do feel like a winner no matter the outcome of the scholarship. I have the support of so many amazing readers and viewers, and I will still have it tomorrow and the next day.  You are why I blog, you are why I strive to do better each day.  It's cliche, corny, and cheesy, undoubtedly, but it's how I feel.  I'm a sap, and you've all really made the week for me, because I know you're here with me.  Thank you!!  Every time I think about how much support you have all shown me, I get teary eyed and if I'm not careful, I'll start sobbing!